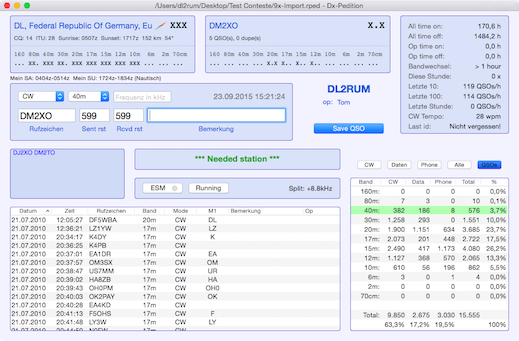 Highlights
RTTY/PSK: supported via Fldigi and K3/KX3
Real time logging only
Real time scoring
Real time multiplier lists
Dupe and multiplier check
ADIF export and import
Cabrillo Export
Club Log uploads - no sync, no real time
LoTW upload
Auto CQ (CW and Phone)
ESM (Enter sends messages) for CW, RTTY, PSK and Phone
Partial call check
Similar call check
CW type ahead
CW Correct Funktion
QSO B4 message is not supported
HamQTH/qrz.com/qrzcq.com panel
A separate window is provided for the contest and dx-ped operation. Most of your existing settings are applicable for the contest as well, but few settings are independent:
Callsign and grid square
LoTW access data
Club Log access data
CW memories
All contest specific contest functions will be found in the Menu–>Contest menu. Few always existing menu items will be used in the contest as well in a similar manner:
Menu–>Logbook–>Show previous QSOs
Menu–>Logbook–>Clear fields
Menu–>Logbook–>Clear after QSY
Menu–>QSO–>Edit QSO
Menu–>QSO–>Delete QSO
CW, RTTY and Phone memories can be played back using the F1 - F8 function keys. Please note, the menu items for all modes are located in the CW menu.
For each contest/dx-ped a new separate contest file will be created. These are not compatible with a RUMlog logbook file! A contest log can be imported into a logbook file directly, without the use of ADIF.
HamQTH/qrz.com/qrzcq.com Panel
The function is very similar to the main logging window. Following functions are not available:
take over data to logging fields
add missing data
printing address labels
Contest Cheat Database
You can use a help database for DL, W und VE stations. German DOKs, US States and Canadian Provinces for more than 800.000 stations are included. Due to the large data file, you have to load it separately: Menu–>Online–>Load Contest Cheat Database
To use this database you have check the option in the contest preferences under the General tab.
When applicable, a suggested control number will be presented after entering the callsign.
Thanks to Dominik, DL6ER for providing the data.
Includes also possible control numbers for:
FOC QSO Party
CW Ops Mini Contest