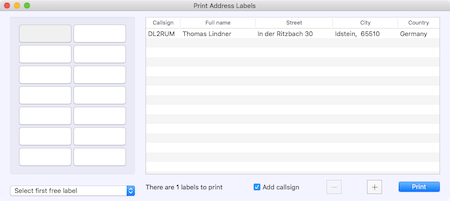 Menu–>QSL–>Print address label
In HamQTH.com, qrzcq.com or qrz.com found postal addresses can be used for address label printing. The last found address can be added to the print queue in Menu–>QSL–>Add address to print queue. This action is repeatable, if you want to print multiple labels for the same address.
When you have found all addresses for one print job, use Menu–QSL–>Print address label. All labels to print are listed in a table. These data are inline editable! You can delete entries or add new addresses manually. Use the controls provided at the bottom.
The label layout is fixed. The label size is the same you have selected for QSL label printing.
An Option is provided to print the stations call sign in the first address row after the name.