Import DXCC credits
You can download the ADIF file from the ARRL web site after you have logged in. This file includes all your credited DXCC QSOs, even the QSOs you applied using paper QSL cards.
The paper QSL credits may be wrong listed, due to errors during the manual data entry, LoTW data should be correct always. QSOs from older applications (last century) may show a wrong date, or just the prefix. RUMlog can't take over these records automatically.
Once you have loaded your ADIF file, go to Menu–>QSL–>Import DXCC Credits. After you have selected the file (button Read file), you will be informed about the number of found records and the used callsign. Pushing the button Import starts the processing. QSOs, which can't be find in your logbook, will be listed in the window. You should copy the text for a further review.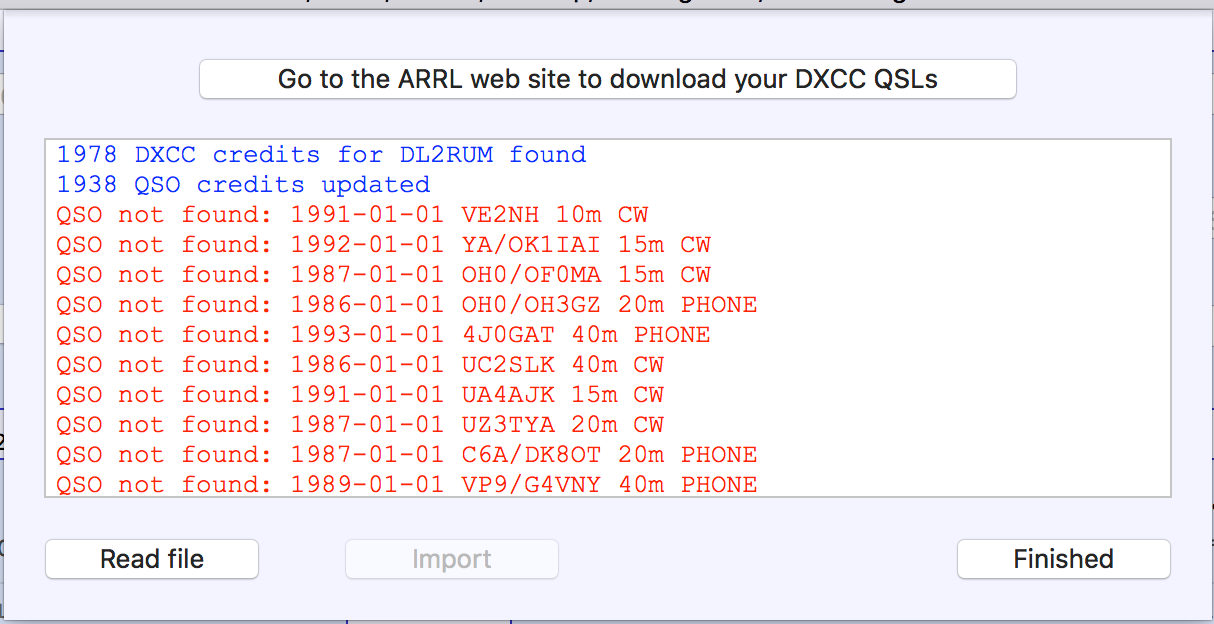 Import DXCC credits
Edit DXCC credits
When you are editing a single QSO, you have the option DXCC Credits . Using this checkbox to enter or delete a credit manually.
Working with DXCC credits
It seems to me, the ARRL uses different enumerations in different listings for the same QSO. RUMlog enters always DXCC,DXCC_MODE,DXCC_BAND in to the database The same enumerations are used for the ADIF export.
You can use/see the DXCC credits in the following windows:
Edit QSO (single QSO)
DXCC table (shows a V when you have selected Credited from the popup menu)
Search Entities (in the Search for and in the QSL popup menu
Search QSOs (Search pattern: DXCC granted includes 'DXCC')
The QSO status DXCC credit granted will be synchronised with Club Log, when sync is active. In Club Log these QSOs or entities are indicated by a blue V.