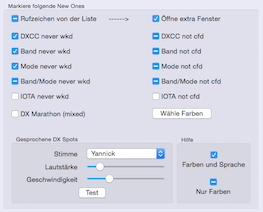 Preferences–>DX Alarm
---
Dx spots can be color coded in the spot window, in the station alarm window or in the band map. This represents a new one (DXCC, band, mode, slot, IOTA) using your logbook data. You can choose, which new ones you want to mark. In the dx spot window all not colored spots can be hidden to declutter the output. Further, you can select the kind of confirmation (paper, LoTW, eQSL) for the advanced DXer.
Additionally, the spots can be spoken to alert you aural. Therefore the checkboxes have three states. See the help box also.
Empty: No colors, no voice
Minus sign: Colors only
Checked: Colors and voice
English and German voices are available, rate and volume is adjustable in wide ranges.
You can add stations to announce on the left hand side, regardless of a new one. You can add an asterisks, to search for a part of a callsign. Example: "VP2M*" will mark all stations including VP2M like VP2MUM or DL/VP2MUM. Each spotted station will open a separate spot window for better tracking!
---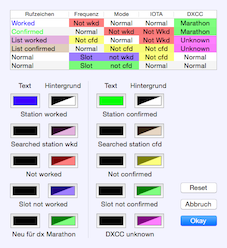 You can select all the colors for your convenience, click the box to change