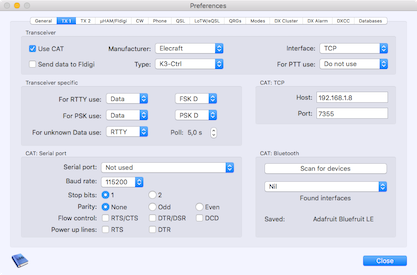 Preferences–>TRCVR
---
Please note, the settings will become active after closing the preferences window. When there is a problem with the CAT connection try: Menu–>Transceiver–>Reset CAT
Transceiver
For the IC-7300, IC-7610, K3 and KX2/3 are 2 options provided. If you want to use the advanced features from a separate trx control window, use the -Ctrl setting.
Use CAT –> Toggles CAT control, you can switch it off and it keeps your settings
Send data to Fldigi –> When your trx is connected to RUMlog, the data can be sent to Fldigi. Enter xml rpc control address and port in the Fldigi section!
Interface –> Select how you have connected your trx to RUMlog:

Serial: Classic serial or USB connection via a simple interface
TCP: Connection via network, remote control or SDR TRX
microHAM: use of a microKeyer oder DIGIKeyer, special driver is required
Bluetooth: CAT via Bluetooth Low Energy module
Web Socket: Connection via network, required for Expert Electronics TCI

For PTT use: –> If RUMlog has CAT control, Fldigi can command RUMlog to switch the PTT. Enter xml rpc control address and port in the Fldigi section! The Voicekeyer can switch the PTT as well.
Transceiver Specific
Here you can find miscellaneous options, pending on your trx model. Mostly you can set your preferred operation mode for digital modes and the poll intervall where required.
CAT: TCP
Address and port for control over the network
CAT: Serial Interface
Select the name of your interface and set the flow control options matching your trx settings. These options will be used for the microHAM devices as well, except the interface name.
The flow control lines can be set to High to power up CAT interfaces.
Fldigi
Use Fldigi for CAT –> Fldigi takes over CAT control, data exchange with RUMlog
Host –> address where Fldigi is running (127.0.0.1 or localhost for the same device)
Port –> same as selected in the Fldigi XML RPC setting
Use RUMlog for PTT switching –> RUMlog can activate the PTT whenever Fldigi requests it
Poll Intervall –> poll intervall for mode and frequency
Popup –> make your choice what makes sense