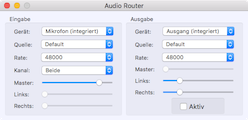 Menu–>Audio–>New Audio Router
Each time you click this menu item, a new window will be opened! To navigate through your open windows, use the Window menu.
Use the provided check box to switch on or off the play through function.
In each instance of the window, you can connect an audio output to an audio input. Using multiple windows allows you to mix different sources, or you can listen to a already used source.
An USB headset or the iMic by Griffin are very useful accessories.